I believe our imaginations are only as wide and opened as our minds are.
There is also the message of love which over time has revealed its self as the global religion.
Love one another as we love ourselves.
Treat everyone with empathy.
Put in one word – service.
When I go online and find myself lost in a sea of terror, panic and negative reports, my thoughts go to my first post of this year: https://ezinneogwumah.com/2020/01/01/2020-vision-reflective/
Will I see the end of this year?
Well, if I don't, how can I make my time here worth the while?
I would like to say thank you to everyone with funny contents for the comic relief and approach towards this growing pandemic, even though there are slight concerns of how this might turn in cruel favor of the Western world.
Personally, having acquaintances & friends spread all over the globe is first level anxiety, I already feel like a walking encyclopedia of current world issues but like it is popularly said, "worry solves nothing"
So, as I try to juggle my personal life, work life, school life and "service" (charity) life, it is my second purpose not to lose sight of my emotional and mental stillness which is always threatened by worry.
We feel it, we let go, and we face the fear.
So, while I struggle to make sense of some bad things or certain personal expectations aren't met, I find myself going back to the grassroots of why I am here – service!
Well, in respect to the subject matter, I would like to speak about the tragic incident that happened in Lagos, Nigeria which was a result of a pipeline explosion.
The factors that bother me the most about this is the traumatic stress on the kids who were in a boarding school close to the site because some were injured, some died & lost their teachers.
Another is the loss of properties and displacement of families and businesses.
For a country like Nigeria and with an honest approach to the economic and social class of these people, such an incident is one which will take a long time to recover from. (Mentally and financially)
Lastly, is that awkward tweet from the Governor of Lagos state asking for contributions & help.
Which keeps me in serious thoughts about if ever, there would be a relief & resuscitation plan in the nearest future.
Well, back to the message of service, I'm a bit relieved to say that my fellow volunteers & I, from the Executive Helping Initiatives (an NGO run by my friend Dare Asobele) will be paying a visit to the Naval Hospital, Satellite Town especially and every other hospital catering to the victims.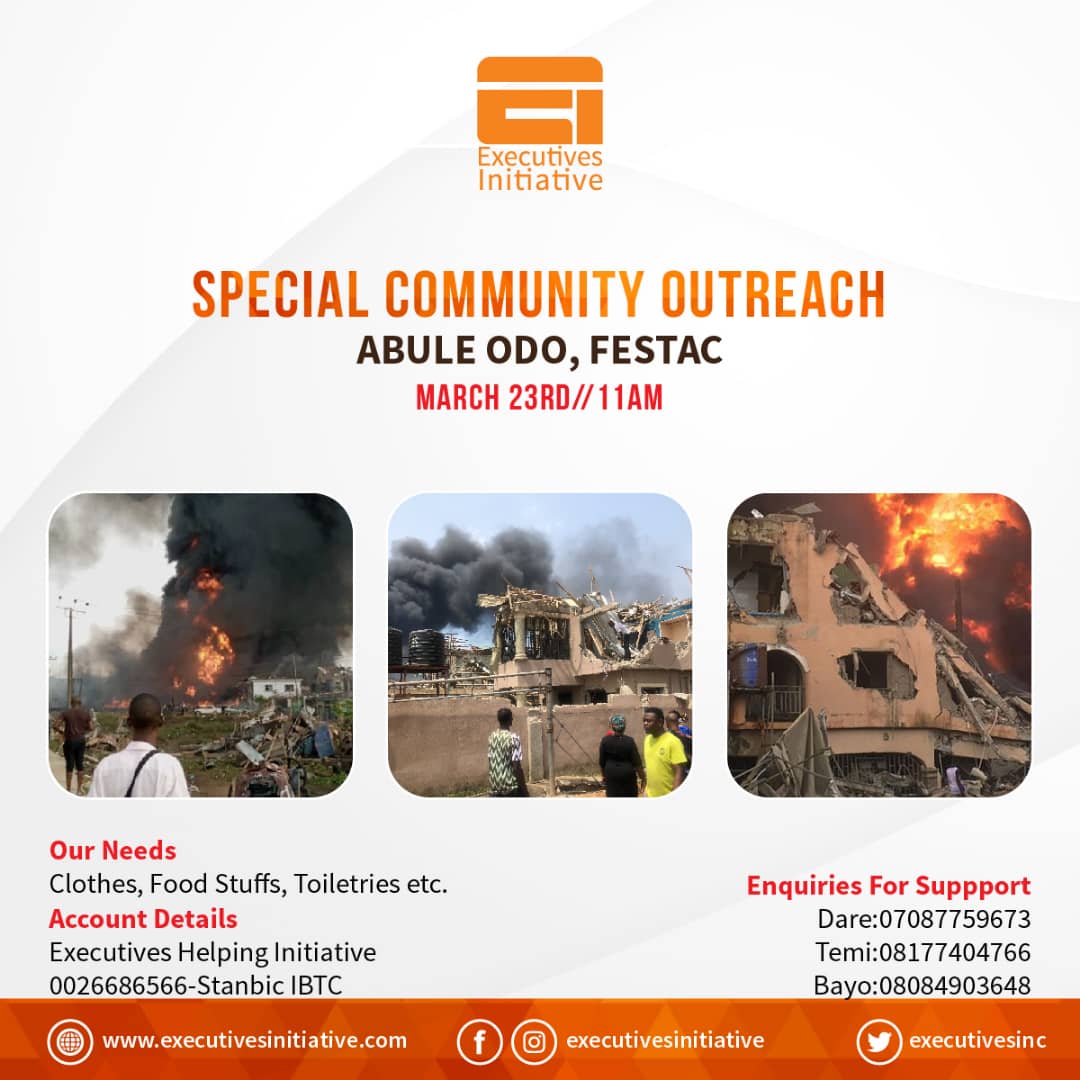 The truth however is, there are so many needs to be met which our numbers our small team but there is so much that can be done with the active participation of every reader or anyone who comes across our post.
We are looking for more food items, water, provisions, clothing, toiletries and monetary support.
We are even open to collaborations with food vendors and the likes just to help to reinforce the idea that love still exists.
Join us in spreading more love & light.
P.s: if you barely or never get affectionate words of expressions, never forget that I, the drunken writer aka Ezinne Ogwumah loves you.